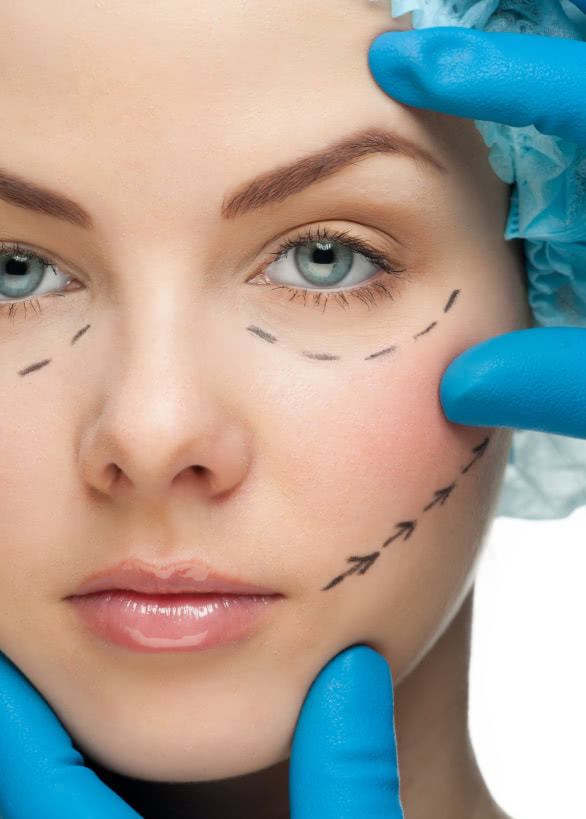 Plastic surgery in Israel represents a section of surgery that deals with surgical interventions aimed at eliminating defects in the tissue, organ or body surface.
There are two basic types of plastic surgery in Israel - reconstructive and aesthetic surgeries.
Aesthetic surgery
Improving the appearance is the main aim of aesthetic plastic surgery in Israel. Thus, people prolong youth, improve their appearance, and get rid of the emotional stress, improving the quality of their lives.
There are such types of aesthetic plastic surgery in Israel:
Facing tuck-up surgery (small, circular, SMAS-lifting);
Forehead lifting (endoscopic);
Eyelid plastic surgery (blepharoplasty);
Plastic surgery of nose: Rhinoplasty (correction of shapes and sizes), septoplasty (correction of nasal septum);
Lip plastic surgery (cheiloplasty) – the correction of shape and size;
Plastic surgery of chin: mentoplasty (correction of the shape, size, proportions, smoothing, deleting or moving the bones that form the basis of the chin), mandibuloplasty (correction with implants);
Otoplasty (eliminating prominent ears);
Correction of facial contour: setting implants in the cheeks, chin and lower jaw;
Neck lift: liposuction (removal of excess fat) + cervicoplasty (removal of excess skin) + plastic surgery of neck (lifting of the neck muscles);
Hair transplantation;
Breast surgery (augmentation, breast reduction, breast lift and correction, reconstruction);
The treatment of male gynecomastia (liposuction in breast cancer);
Liposuction in Israel (vacuum, tumescent liposuction, with the help of ultrasound, laser, non-surgical liposuction);
Tummy tuck surgery (abdominoplasty);
Buttock augmentation (gluteoplasty);
Arm lift surgery (brachioplasty);
Calf contour correction (kruroplasty), internal surface of thigh correction;
Labiaplasty: hymen repair (Hymenoplasty), vaginal plastic surgery (vaginoplasty), plastic penis (phalloplasty), labia minora plasty, labia majora plasty (labiaplasty);
Skin after weight loss surgery: panniculectomy (removal of excess fat and skin in the abdominal area), torsoplasty (soft tissues and skin circular tightening of the abdomen, back, thighs and hips).
Reconstructive surgery
The purpose of reconstructive plastic surgery in Israel is to create and restore the form and functioning of the organ or body part. There are following types of plastic surgery in Israel:
Congenital abnormalities (cleft palate and lip);
Traumatic injuries (e.g., broken facial bones);
Burns;
Consequences of operations, infections, diseases;
Removal of malignant tumors.
The plastic material is often transferred from the same body in most cases during reconstructive plastic surgery in Israel. The doctor may transplant organs and tissues from other person or using special devices - implants.
There is no hard distinction between aesthetic and reconstructive surgery, as the latter almost always includes aesthetic components and vice versa. Typically, the operation consists of several steps.
The most popular kinds of reconstructive plastic surgery in Israel are:
Breast reconstruction after mastectomy (amputation);
Skin grafting after burns;
The treatment of congenital cleft lip and palate (cleft lip and palate);
The ear reconstruction in the case of external ear hypoplasia or congenital absence;
The correction of mucosal and skin defects or after the removal of tumors in the head and neck.
Facial reconstructive plastic surgery
There are such indications for reconstructive plastic surgery in Israel: trauma, burns, unsuccessful plastic surgery, birth defects. Plastic surgery consists of the following kinds of reconstructive surgeries:
Skin grafting after burns;
Rhinoplasty - nose shape correction combined with the restoration of its natural functions, also otoplasty;
Lip plastic surgery after injuries and burns which restores its shape and size;
Eyelid plastic surgery may change eye shape, form, remove age-related changes, excess skin and fatty tissue, the effects of paralysis and injuries.
Reconstructive plastic surgery in the chest area
The breast plastic surgery is performed in Israel to achieve medical and cosmetic purposes.
For example, congenital anomalies of the chest (funnel or keeled chest), or acquired deformities (consequences of traumatic injuries, operations) require bone and musculoskeletal plastics in the chest area. Plastic surgery in Israel restores the correct shape of the body and normalizes the function of the respiratory and cardiovascular system.
Reconstructive plastic surgeries are performed after mastectomy. There are different kinds of mammoplasty: tissue expansions, the implantation of prostheses which are made from own soft tissues, the method of patchwork plastics, plastics patchwork technique TRAM Flap.
Abdominal wall reconstructive plastic surgery
Such type of plastic surgery in Israel as a tummy tuck or abdominoplasty removes excess fat, restores normal appearance and improves skin tone. Stretching the abdominal muscles and skin after childbirth or due to rapid loss of weight are the main indications for this plastic surgery.
In addition, the tummy tuck surgery is performed at large hernias or after the removal of tumors in the anterior abdominal wall.
Plastic surgery in Israel is able to satisfy any patients' wishes. It became possible due to the considerable experience of Israeli plastic surgeons and the cooperation with maxilla-facial surgeons, otolaryngologists, oculists, urologists, and other specialists.
Benefits of plastic surgery in Israel
Quality - highly qualified professionals with extensive experience perform all operations. Implants which are applied during surgical supplies have all certificates and permits of the FDA and Israeli Ministry of Health. The latest medical technologies and equipment are used.
Reasonable price - the value of all plastic surgeries in Israel is lower than in clinics in Europe and the United States. According to recent reports, the Israeli prices are also lower than the prices for similar treatments in Moscow and St. - Petersburg.
There is a very low rate of complications in plastic surgery in Israel.
Rapid rehabilitation - the short rehabilitation and recovery period. The number of operations doesn't require hospitalization.
The most comfortable conditions and anonymity for the patients.
There are many departments of plastic surgery in Israel at major medical centers, but it is often better to deal with a specialized clinic. The consulting physicians of «Isramedic» will help you in choosing the clinic. You can ask questions using one of the forms of requests.