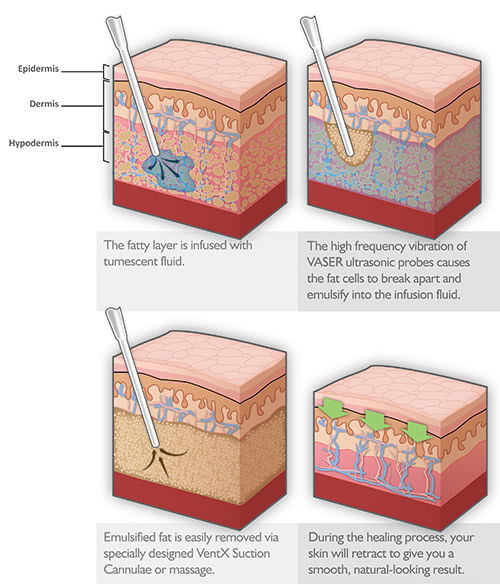 Thousands of people around the world dream of a perfect figure, and there are a lot of methods of achieving this, but many of them are associated with the high risk and difficulties. For example, after traditional liposuction in many cases the postoperative period runs from complications, pain, and prolonged recovery. But now there is an excellent alternative to standard liposuction, which has a minimal risk of complications and a wonderful effect.
«Tumescent» Liposuction - The features of the procedure
The obesity treatment in Israel with «Tumescent» procedure is a revolutionary technology, which replaces the old classic liposuction. During the treatment of a patient with this method a liquid is introduced under the skin, which contains lidocaine (a local anesthetic) in addition to the substance, which constricts blood vessels. During this process the material is absorbed by the subcutaneous adipose tissue and large cell separation of the fat layer. This allows you to pump fat from the body through a small opening in the skin. The whole process is controlled by the experienced professionals who know how to distribute symmetrically the material and tighten the skin layers. During the procedure, the patient is conscious, so he sees and hears everything.
It is worth noting the fact that «Tumescent» liposuction technology is not only safer, than normal procedure, but also cheaper because it does not require general anesthesia and hospitalization.
People of all ages may treat with the help of the «Tumescent» procedure, but essential condition of its implementation is the passing of a number of special preliminary researches.
In most cases, in Israel this type of liposuction is performed for men and women with stable weight, who cannot get rid of excess fat in this case, despite the regular exercises and strict diet.
"Tumescent" technique is the best solution of the problem of genetic obesity.
The procedure can be performed on all parts of the body, but the most popular areas are the buttocks, hips, waist and belly. A little less this type of liposuction is performed in Israel on the sides and arms, as well as in the case of the need to remove a double chin and in the treatment of men with gynecomastia.
The main advantage of the procedure is its high safety. Thus, during the usage of this technology for a fairly long period, there were no complications in the patients who past it.
The fat-drainage system "Tumescent" is the most simple and effective method of getting rid of "persistent" fat deposits and acquiring ideal body shapes. If you are tired of exhausting exercises and diets, but the desire to regain the attractiveness still remaines, then the surest solution is to appeal to the leading Israeli clinic. Coordinating Center «Isramedic» will help you with the organization of the treatment and gives the approximate cost of services. To get more information, contact us through the phone numbers on the website or send your request for the treatment.