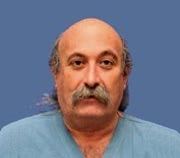 He is the head of the oncological orthopedics department at Ichilov Medical Center.
Specialty
Oncological Orthopedics.
Education
School of Medicine, Hebrew University, Hadassah Ein Kerem.
Internships
1980 - Surgery of fractures in Davos (Switzerland).
1983 - Surgery of Oncology and Traumatology, Freiburg (Germany).
1985-1986 - National Health Research Institute in Maryland (USA).
1 1986-1987 - Oncological Orthopaedics Cancer Center in Washington (USA). .
Clinical work experience:
1973-1980 - a doctor in the military
1990-1991 - Acting Director at the department of orthopedic surgery, Soroka Medical center
1990-1994 - Head of the National Authority in the field of oncological orthopedics in Soroka center
1994 - Director of the Department of Orthopaedic Oncology at Ichilov Hospital.
Academic experience
Senior lecturer in orthopedics at Tel Aviv University.
Publications
150 scientific articles.
Membership in professional organizations:
Israeli Association of Oncological Orthopedics
Israeli Association of Surgical Oncology
European Association for Cancer Research
European Musculo-Skeletal Oncology Society (EMSOS)
International Association for the Conservation of the extremities (ISOLT)
International Association for the Study of the implant .
International Society Of Limb Salvage (ISOLS)