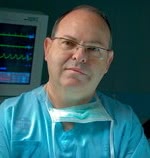 Dr. Milton Saute is one of the best Israeli specialists in the field of lung surgery. Dr. Saute developed and implemented a valuable technique in the field of video surveillance in lung surgery.
Place of work and job
He is the head of the Thoracic Surgery Department at Beilinson Hospital, since 2006.
He is the leading thoracic surgeon at Assuta Medical Center.
He is also the operating surgeon at pediatric Schneider Hospital
Doctor Saute Speciality
Surgical treatment of lung cancer.
Minimally invasive lung surgery.
Lung surgery in children,
Surgical correction of lung defects and respiratory tract, including newborns and infants.
Education and training
Dr. Milton Saute graduated from Federal Rio Grande do Sul University (Brazil), Faculty of Medicine.
He held residency at the Pontifical University of Rio de Janeiro, in 1976 - 1980 years.
He was on probation in the field of thoracic surgery the UK and U.S. clinics.
Clinical experience
He was the head of lung surgery at Carmel Clinic in 1989 - 2000 years.
He was the head of thoracic surgery at Beilinson Clinic, in 2000 - 2006 years.
Dr. Milton Saute has been practicing in Israel since 1989. The experience of clinical activity in lung surgery is thirty-four years (since 1980). Dr. Milton Saute spends more than five thousand operations per year, including forty or fifty transplant operations.
Dr. Milton Saute is the author of more than seventy scientific articles. He is the constant author at European Journal of cardiopulmonary surgery and annual almanac of thoracic surgery.
Membership in professional organizations
Dr. Milton Saute is the member of European Association of Thoracic Surgeons.
He is the chairman of Israeli Association of lung surgery