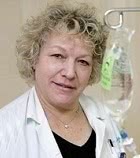 Maya Gottfried is oncologist, pulmonologist, leading Israeli specialist in the treatment of malignant tumors of the lung.
Place of work and job
Maya Gottfried is the head of Lung Cancer Department at Meir Hospital since 2002; she is also associate professor of the medical Faculty of Medicine at Tel Aviv University since 1994.
She is practicing physician with thirty years of experience.
Education and training
A native of Israel, Maya Gottfried received a medical degree at the Medical University of Padua (Italy) in 1973 - 1979.
She took the internship at Gustave-Roussy Oncology Institute, Villejuif, France in 1990 - 1993 years.
After that, Maya Gottfried took specialization at Sheba Medical Center (Tel Hashomer) and Meir Hospital (2002).
Participation in international professional associations
Dr. Maya Gottfried is a member of the International Lung Cancer Research Association.
She is also a member of the European Association for Cancer Research.
She is a member of the Israeli Association of Oncology.
In addition, Maya Gottfried is the author more than thirty scientific papers and publications, including the section in the textbook of oncology. Research interests of Dr. Maya Gottfried are the research of non-small cell lung cancer, clinical cancer research at second and third stages.