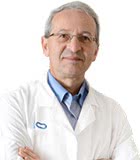 Dr. Gendel is one of the leading thoracic surgeons in Israel.

Place of work and job
Dr. Boris Gendel is the head of the surgery department of throatic organs at Meir Hospital.
He is also the senior consultant in private Herzliya medical clinic. Previously, he headedthe department of thoracic surgery at the Assuta medical center.
Doctor Gendel's Speciality
He specializes in the lungs, mediastinum and thorax.
Dr. Gendel performs surgical removal of malignant tumors, surgical treatment of the effects of trauma, and diagnostic operations on the thorax.
Education and training
Dr. Boris Gendel is a graduate of Tel Aviv University, where he studied at the Faculty of Medicine. The training in the field of oncology and radiology he held in Sheba Hospital Cancer Institute. Boris Gendel's clinical experience is more than thirty five yearsMany successful operations, saved lives, grateful patients and their relatives are the main results of Dr. Gendel's surgical practice. He is considered to be as one of the most reputable and experienced thoracic surgeons in the country.
Membership in professional associations
He is a member of Israeli Pulmonary Hypertension Association.